Phishing continues
Description:
This is to remind our users that phishing attempts continue daily and some of them succeed to avoid the spam filter. Here is an inept attempt, it should not fool anyone:
From: ADMINISTRATOR <alvarezo@celpinf.com.ar>
To: undisclosed-recipients: ;
Subject: Päivitä webmail-tili
Dear sähköpostin käyttäjä
Postilaatikko on ylittänyt varastointi Limit asettamaa Sähköposti Administrator johtuen piilotetut tiedostot ja roskapostin In Your kansio ja muut kansio, et voi vastaanottaa New viestit Until You uudelleen Validoi Webmail.
Klikkaa tästä ja Vahvista: http://dshhshshss.jigsy.com/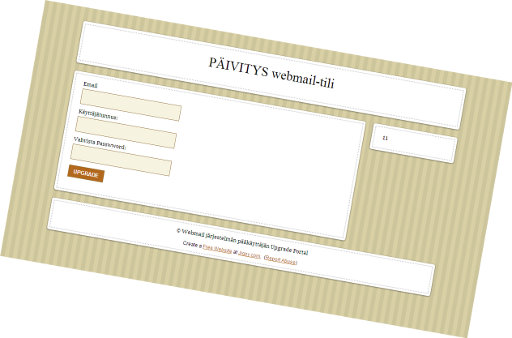 As usually, our spam detector has been modified to recognize these phishing emails and the abuse department of the hosting provider of the fake "upgrade" page has been asked to take down the page.