University of Helsinki Computer science women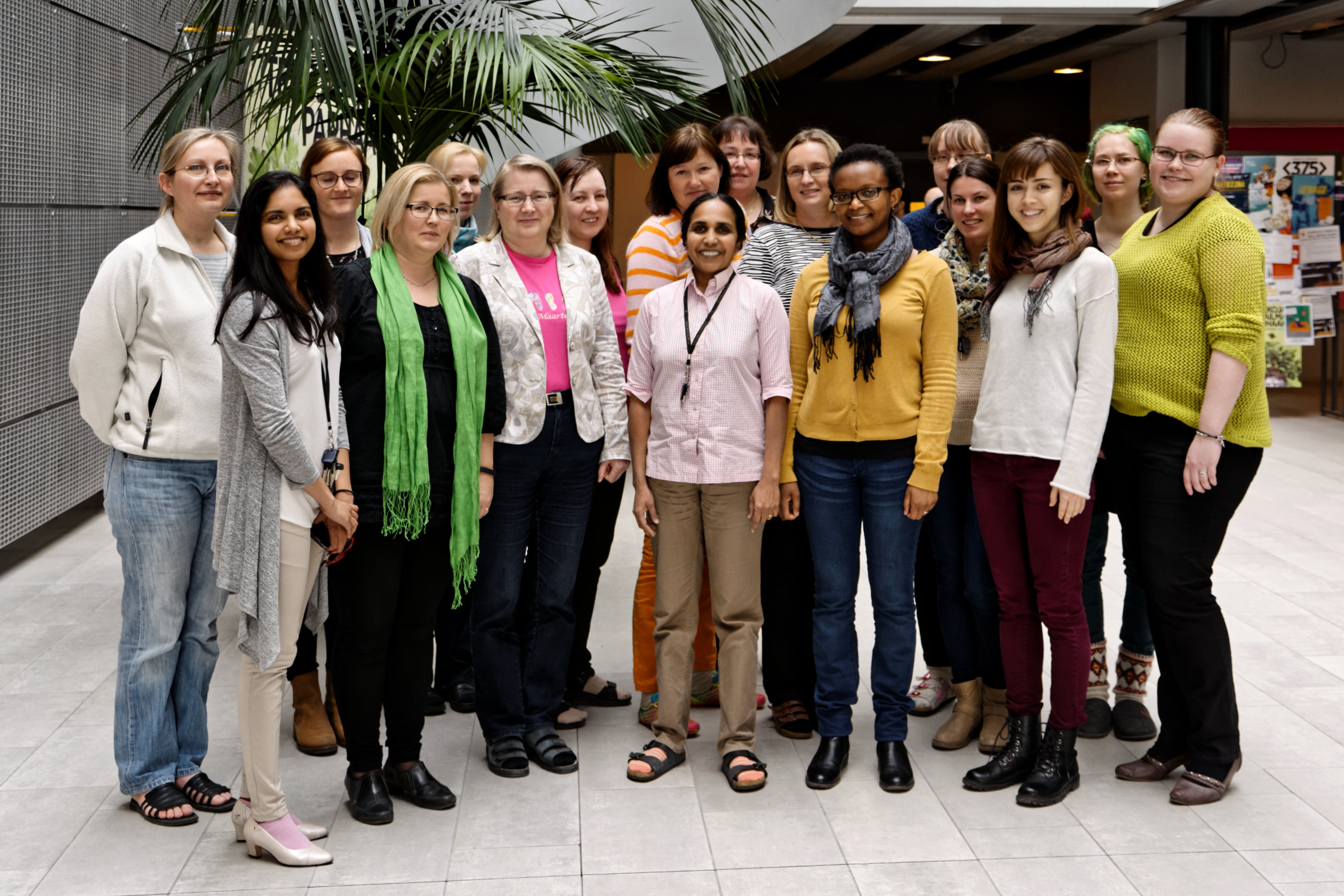 University of Helsinki Computer Science women is a network of female computer science researchers, teachers and students at the Department of Computer Science at the Univeristy of Helsinki.
Upcoming events
Recommended Kumpula event: Deep Earth & high skies - KumpulaNOW talks on Women?s International Day
Wednesday 8.3.2017 at 13.15-15
Chemicum, auditorium A129, A. I. Virtasen aukio 1
An event on Kumpula Campus looking at the first 100 years of Finnish women in science as well as picturing the future. The event is in English but questions in other languages are most welcome, especially in the panel discussion led by Research Coordinator Eija Tuominen.
Past events
Thursday 6.10. 2016 at 3pm: Computer Science women kokoontuu. Teemana roolit yhteisössä. Mukaan toivotaan kaikenikäisiä naisopiskelijoita ja henkilökunnan jäseniä.
Thursday 13.10.2016 at 3pm: Computer science women meeting. Theme: roles in organisations. Female studeents of all ages + staff members welcome.
Autumn 2016: wish to get a research group introduction session.
As a pre-Christmas party we joined the Opening of Christmas Street event that is open for all students and staff. It took place at the 2nd floor hallway on 3.12 at 2pm. We welcomed all to join in to mingle with the rest of the department folk, disregard of academic age.
Likely to be Wed 10.2 at 4pm: discussing ACM Women network equality scenarios.
Note: Apurahahaku 31.1. 2016 asti, Konkordia-liitto tukee suomalaisten naisten tieteellisiä jatkotutkintoja. For Finns only, if I did not miss anything.
Note: Apurahahaku 12.2. 2016 asti: Naisten tiedesäätiö edistää tasa-arvoa naisten ja miesten välillä tukemalla naistutkijoiden koulutusta, naisten tekemää tieteellistä tutkimustyötä sekä merkittävien tutkimusten tunnetuksi tekemistä. Apurahoja jaettaessa etusija annetaan sellaisten alojen tutkijoille, joilla enemmistö on miehiä, tutkimuksille, jotka koskevat naisia tai joissa sovelletaan naisnäkökulmaa. Pages only in Finnish and Swedish, no explicit statement obvious on top pages.
Joint Finnish/English informal discussion meeting for all female computer scientists of the department on Thursday 29.10. 2015 at 14-16 in C222. Coffee and biscuits.
Mondays 28.9 and 5.10: meeting with big sisters and new female students. Participation to the sister network provides contacts and vision discussions with more seniors in the community than the other networks. Special focus on new students, but all sisters welcome to join.

Suomenkielinen tapahtuma pikkusiskoille maanantaina 28.9 at 14-16 salissa C222; erityisesti kohdennettu ensimmäisen vuoden naisopiskelijoille, järjestävänä osapuolena isosiskojen verkosto. Isosiskoiksi mielivät ovat tervetulleita mukaan! Ohjelma: Avaussanat ja isosiskojen esittely; Vapaa keskustelu ja verkostoituminen; Aktiviteettilistat.
English speaking meeting for big sisters and to-be little sisters Monday 5.10 at 14-16 in C222; little sisters are mostly international MSc students. If you would like to become a big sister, please join us in the event or by registering beforehand through the form on these pages. Agenda: Opening words and introduction of the big sisters; Free networking and discussion; Summarizing new activity plans.

Kick-off meeting on identifying needs in various groups on Thu 16.4.2015 at 2:30 in C124. Agenda: Welcome coffee, group photo, introduction of background and initial plans, capturing needs from various staff and student group viewpoints.