WISEciti Public Seminar
Date
Wednesday 19 May 2010. 12:30-16:00
Venue
University of Helsinki, Kumpula Campus, Exactum, 2nd floor
Department of Computer Science (Gustaf Hälströmin katu 2b)
Helsinki, Finland
Summary
The public seminar offers a concise view on the research results of the Tekes/GIGA funded WISEciti research project, including demonstrations, presentations and posters. The seminar presents research in various aspects related to the mobility enabling technologies for acquiring insight to the future IP-based mobility solutions and their impact - from secure mobility and transport enhancements to analysis of and business models for wireless and mobile services.
The public seminar is organised by the WISEciti (Wireless Community Services for Mobile Citizens) project that is a joint research initiative between Arcada, Birdstep Technology, Ericsson Finland, HIIT, M-OAS, NetHawk, Nokia, PVTT, TeliaSonera Finland, Aalto University/PM&RG, University of Helsinki, and VTT.
Registration
The WISEciti Public Seminar 2010 is free of charge to all participants. To register please send email to
wiseciti-adm-list@cs.helsinki.fi
indicating your name and affiliation. Thank you.
Directions
Map of the Kumpula Campus area »
The main entrance of the Exactum building is located in the small quadrangle between the Physicum and Exactum buildings (and is best reached via pedestrian street starting from Pietari Kalmin katu, or by first taking the main entrance of the Physicum building at Gustaf Hällströmin katu and then walking through the Physicum lobby).
Map of 1st floor / Lobby of Exactum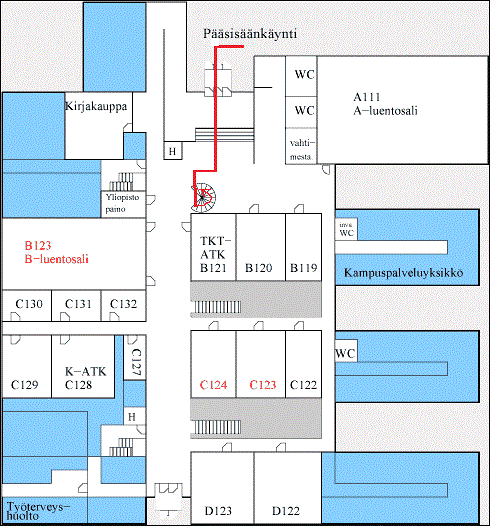 Map of 2nd floor to reach B222, C222, C220
Programme
| | |
| --- | --- |
| 12:30 | Welcome and Introduction - B222 |
---
---
| | |
| --- | --- |
| 12:40 | Host Identity Protocol Risk Analysis with Value Chain Dynamics Toolkit - based Risk Identification Method (Juha Sääskilahti, Mikko Särelä / Ericsson) |
| 13:00 | Public Key Cryptography Options for Trusted Host Identities in HIP (Harri Forsgren, Kaj Grahn, and Göran Pulkkis / Arcada, Timo Karvi / University of Helsinki) |
---
| | |
| --- | --- |
| 12:45 - 15:30 | Demonstrations - C220 / C222 |
---
| | |
| --- | --- |
| * | Animation of HIP Network Mobility (Jonny Mattsson, Göran Pulkkis, Kaj Grahn / Arcada) C220 |
| * | Distributed Mobility and Cognitive Resource Management in Coexisting IPv4/v6 Networks (Markus Luoto, Jukka Mäkela / VTT) C222 |
| * | HIP Proxy for Linux (Jukka Ylitalo, Patrik Salmela / Ericsson) C222 |
---
| | |
| --- | --- |
| 12:45 - 15:30 | Posters - 2nd floor corridor / C220 / C222 |
---
| | |
| --- | --- |
| * | A Value Perspective on Business Models for Wireless Network Services (Niklas Eriksson, Carl-Johan Rosenbröijer / Arcada) - C220 |
| * | Horizontal Service Deployment in Wireless Networks (Reijo Salminen / M-OAS) - Corridor |
| * | Service model analysis - conclusions of WISEciti (Aalto University/PM&RG) - Corridor |
| * | Distributed Trust Management and Revocation: Voting Strategies and Consensus (Dmitriy Kuptsov, Andrey Khurri / HIIT) - Corridor |
| * | SAVAH: Source Address Validation Architecture with HIP (Dmitriy Kuptsov, Andrey Khurri / HIIT) - Corridor |
| * | Distributed user authentication in wireless LANs (Andrey Khurri, Dmitriy Kuptsov / HIIT) - Corridor |
| * | Comparison of HIP VPN with other Mobile VPN solutions (Kaj Grahn, Göran Pulkkis / Arcada) - C220 |
| * | Security Challenges in Mobile Networking: Mobility Management and Routing (Kaj Grahn, Jonny Karlsson, Göran Pulkkis / Arcada) - C220 |
| * | TCP Performance with Vertical Handoffs (Laila Daniel, Ilpo Järvinen, Markku Kojo/ University of Helsinki) - Corridor |
| * | Enhancing Rate Control with Bandwidth Estimation (Lauri Hyttinen / University of Helsinki) - Corridor |
| * | Distributed Mobility and Resource Management (Jukka Mäkela, Markus Luoto / VTT) - C222 |
| * | Application interface and architecture - conclusions of WISEciti (Aalto University/PM&RG) - Corridor |
| * | Selected Posters of Focused Experimentations (Aalto University/PM&RG) - Corridor |
| * | Reversed Matrix Adaptive Backoff (Andrey Lukyanenko / HIIT) - Corridor |
| * | Handover Security in Wireless and Mobile Networks (Aaron Yi Ding, Markku Kojo / University of Helsinki) - Corridor |
| * | An Open Internet Subdomain for HIP Deployment (Johan Fröjdman, Kaj Grahn, Jonny Mattsson, Mathias Mårtens, Göran Pulkkis / Arcada) - C220 |
| * | Analysis of Middlebox Interactions and NAT Timeout Results (Seppo Hätönen, Aki Nyrhinen / University of Helsinki) - Corridor |
---
For more information: send email
---
Last modified: &nbsp Thursday 6 May 2010