Nordic Baroque Music Festival 2003
In the
Nordic Baroque Music Festival Nordmaling, Sweden 9-16 August 2003,
there were 8 fine concerts and masterclasses in several instruments.
The teachers: Emma Kirkby, singing, Enrico Gatti, violin, Roel Dieltiens, cello/gamba, Rebecca Miles, recorder, Rachel Brown, flute, Jakob Lindberg, lute, Lars Ulrik Mortensen, harpsichord. Also three musicians of the King's Consort were teaching chamber music.
The concerts: The Kings Consort: L'Estro Armonico, Musica Petropolitana: Chamber Music at the Court of St Petersburg, Ensemble Schönbrunn Amsterdam: Haydn and Mozart, The Cardinalls Music: "A Woman's gentle heart", Professors' Concert, Emma Kirkby, Jakob Lindberg & Lars Ulrik Mortensen: "Su l'ore che l'aurora", Ensemble Clement Jannequin: "Le chant des oylseaulx" The Kings Consort & Lorna Anderson, & Crispian Steele-Perkins: "Virtuoso Baroque"
---
Copyright ©
Arto Wikla
.
Making
private
copies of my photos on paper and in computer is perfectly ok. Publishing them is prohibited without my explicit permission.
Click the small photos!
---
In the lute class
---
There used to be long queues to the concerts every evening
---
In the church, waiting for the concert of Emma, Jakob and Lars Ulrik
---
And here they are!
---
In the intermission: students, staff and teachers. Can you find Rachel and Enrico?
---
The "King" (the artistic director) of the festival, Robert King, in a good company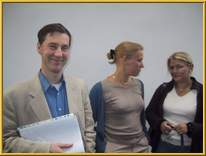 ---
Soon the second part starts...
---
Flowers and applause. Lots of them!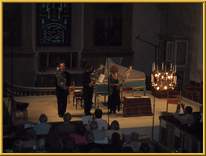 ---
We were practising also even after the concerts!
---
And then some beer and even some sporting...
---
The singing and lute class by Emma and Jakob
---
Funny guys from France, Ensemble Clément Janequin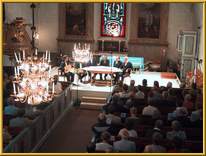 ---
Information for the students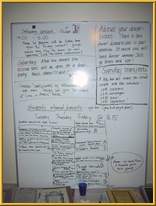 ---
We had to eat, too. Here are are some eating lutenists and one harpshichord player, who wanted the harpshichord sound like lute! A clever person!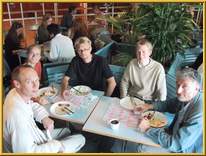 ---
Last meeting of the lute class, wise words by Jakob
---
In the last concert
---
The party
---
Back to Finland
---
Arto Wikla 18.8.2003
My Music Page