Conference venue

The main conference venue is the Department of Teacher Education, University of Helsinki.
Street: Nilsiänkatu 3
District: Vallila (approx. 4 km from the Helsinki city centre)

Most of the tutorials take place at the Department of Computer Science, 500 meters from the main venue.
Tutorial 2 takes place at the main venue. Street: Teollisuuskatu 23
District: Vallila (approx. 4.5 km from the Helsinki city centre)

Please note that there is no university campus area in Helsinki. There are more than a hundred of different addresses throughout the city! If you ask for advise on how to get to the university area, you will be guided to the University main building, about 4km away from the conference site.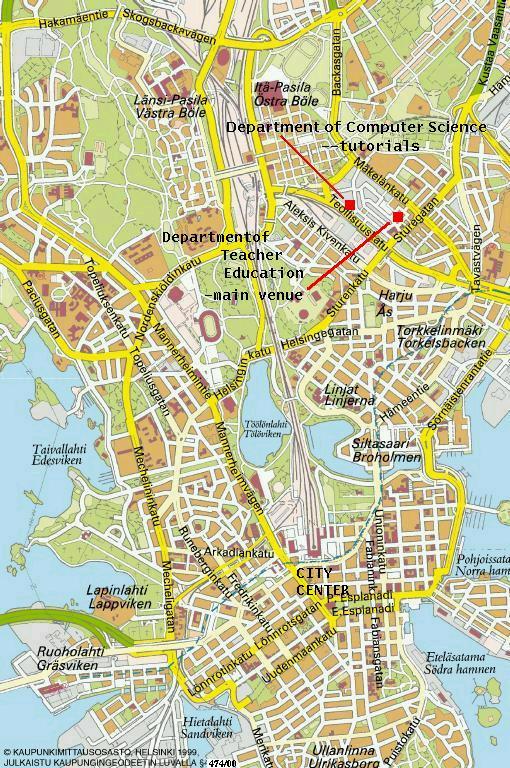 Bigger tourist map with the venue, conference hotels, receptions, dinner banquet venue, sights and other places of interest marked (500 kB).
Public transportation info
Helsinki has very practical public transformation system. Buses and trams are probably the ones you need when travelling between the locations of your hotel, conference venue, receptions and banquet.
In Helsinki, you can use either HKL or YTV buses. There are no specific colors or outlook for any of the buses. Instead, you have to read the visible numbers in front.
Information about how to use the public transportation.
You'll find the tram timetables on the Web.
Routes for the trams are in tram routemap.
Also bus timetables are on the Web, along with a bus routemap.
The HKL tram and bus info is available only in Finnish (and Swedish), but the info should be clear without knowing any Finnish.
The YTV buses operate similarily. They cross the city borders, but if travelling inside Helsinki, the same tickets are valid also on YTV buses. YTV bus timetable info is only in Finnish.