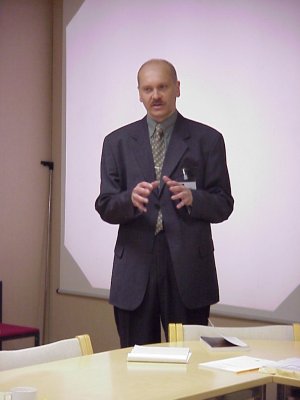 Jukka Paakki
Ph.D., Professor (Software Systems): Department of Computer Science ,
University of Helsinki.
Docent: Department of Computer Science and Information Systems ,
University of Jyväskylä.
Phone:
+358 50 4156671 (mobile)
Address (office, Exactum building / room A229):
Department of Computer Science
P.O.Box 68 (Gustaf Hällströmin katu 2b), FIN-00014 University of Helsinki, Finland
E-mail:
Jukka.Paakki AT cs.Helsinki.FI (Note: replace "AT" by "@")






Since August 1, 2016: de facto retired
---
Hobbies
Golf, volleyball (probably over), badminton, different forms of skiing, cooking, Kauniit ja rohkeat, academic provocation and speculation.
---
Teaching
---
Education
M.Sc. (FK, filosofian kandidaatti), 1982, Department of Computer Science, University of Helsinki. Thesis: Optimization of an Attribute Grammar for C-Euclid (in Finnish).
Ph.Lic. (FL, filosofian lisensiaatti), 1987, Department of Computer Science, University of Helsinki. Thesis: Generating One-Pass Semantic Analysis for a Compiler.
Ph.D. (FT, filosofian tohtori), 1991, Department of Computer Science, University of Helsinki. Thesis: Paradigms for Attribute-Grammar-Based Language Implementation.
---
Professional career
---
Expert positions
Chairman, The Finnish Society for Computer Science (Tietojenkäsittelytieteen Seura ry), 2007-2008.
General Chair, 9th European Software Engineering Conference (ESEC) & 11th ACM SIGSOFT Symposium on the Foundations of Software Engineering (FSE), Helsinki, Finland, September 1-5, 2003.
Vice Member of the Board (2001 - 2003), Helsinki Institute of Information Technology (HIIT), a joint research unit of the University of Helsinki and the Helsinki University of Technology aiming at strategic and basic research in advanced information and communications technologies jointly with leading Finnish industrial companies.
Member of the Board (1995-2005), Helsinki Graduate School in Computer Science and Engineering (HeCSE).
Reviewer (1995-2000), Academy of Finland (Research council for Natural Sciences and Engineering).
Member of the expert panel on computer sciences, 2000.
Member of the Boards (1999 - 2000), Finnish Information Processing Association (Tietotekniikan liitto ry) & Foundation of Information Processing Research (Tietotekniikan tutkimussäätiö).
Member of the Board (1999 - 2000), Infuture Ltd.
---
Administrative duties
---
Publishing
---
Huomionarvoisia hetkiä
Arvovaltaisen ja akateemisesti kriittisen pikkujoulujuhlayleisön edessä 12.12.1997 pidetty puuropuhe.
Muita julkisia esiintymisiä.
Valittu asiantuntijaraadin toimesta "100 suomalaisen tietotekniikan edelläkävijän (avantgardistin)" joukkoon, Kauppalehti Optio, n:o 12 (kesäkuu), 2000.
Mukana teoksessa Kuka kukin on 2003 - Who's who in Finland, Otava, 2002.
Suomen Valkoisen Ruusun I luokan ritarimerkki (SVR R I), 6.12.2008.
---
Contact Information
Room: C230b

Phone:

+358-9-19151387 (office)
+358-50-4156671 (GSM)

Postal Address:

Dept. of Computer Science
P.O. Box 68 (Gustaf Hällströmin katu 2b)
FIN-00014 UNIVERSITY OF HELSINKI
FINLAND

E-mail:

Jukka.Paakki AT cs.Helsinki.FI (Internet)
/G=Jukka/S=Paakki/O=helsinki/A=fumail/C=fi/ (X.400)